LY-TON Cameron A-400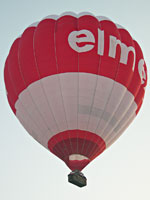 LY-TON, Cameron A-400, 1999, 174 hrs since rebuilt by Cameron Balloons Bristol in 2004. 2 rows of nomex, all the rest is Hyperlast. Smart vent, turning vents. Artwork sewn in, can optionally be removed. No valid ARC, can be delivered with ARC if needed (at cost).
best offer
Contact:
Laurynas Komza (
show all 4 items of this user
)
Vilnius, Lithuania
+370 - (8) 626 - 66766
send message
Listed in category Envelopes since 19-09-2017
.